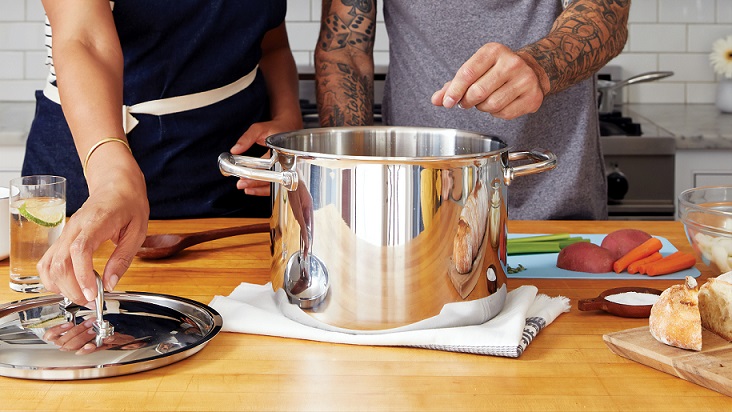 Superior Farms has, since 1964, maintained a thoughtful approach to business that entails raising livestock with kindness and respect to produces better-tasting, superior quality lamb. Superior Farms acknowledges that some customers may be in regions that are experiencing extreme winter weather this time of the year and may want a warming dish fitting for the weather.
If you crave a hearty lamb recipe for this this winter season, look no further than this lamb and dumpling stew recipe provided by Superior Farms. Superior Farms suggests these ingredients to create a deep, rustic stew perfect for the cold and snow:
Stew
4 tbsp olive oil
1/2 lb American Lamb shoulder, diced
2 tbsp Whole butter
2 small Cipollini onions, peeled
16 small garlic cloves, peeled and trimmed
2 fresh bay leaves
¼ cup tomato paste
5 heirloom carrots, peeled and cut into a roll cut ½
2 cups flour
1/2 cup dark stout
2 stalks celery, peeled and medium diced
1 cup lamb jus
½ cup diced canned Italian plum tomatoes
Salt and pepper to taste
Dumplings
9 ounces self-rising flour
4 ounces cold butter
Salt and pepper to taste
After gathering the ingredients for the dish, ready a rondo pan over medium heat and add oil. Sear the lamb shoulder in batches until the lamb appears both brown and caramelized, adding oil if necessary.
Remove lamb from pan, and add butter, onions, garlic, carrots, and bay leaves. Cook for about 10 minutes. Add the tomato paste and flour, allowing the mixture to cook for an additional 3-5 minutes. Deglaze the rondo pan with the stout. Add tomatoes and lamb jus, give it a stir, and allow it to simmer for another 3-5 minutes. Add the lamb reserved from earlier along with celery and bring the mixture to a simmer. Cover and cook the stew at 325°F for 1 ½ hours. Remove the lid from the pan and allow the stew to cook an additional thirty minutes. Season the sauce with salt and pepper and allow it to simmer for about 30 minutes.
For the dumplings, add flour to a mixing bowl. Use a course grater to grate the cold butter into the flour. Season the mixture with salt and pepper. Use your fingers to gently rub butter into flour until it starts to resemble breadcrumbs. A splash of cold water can help to bind the dough. Divide the dough into 12 pieces, gently rolling each of the pieces into a round shaped dumpling. Place the dumplings atop the stew and press down to slightly submerge the dumplings into the sauce. Put the stew back into the oven and bake at 325°F for a final 30 minutes.
Recipe Courtesy of American Lamb Board