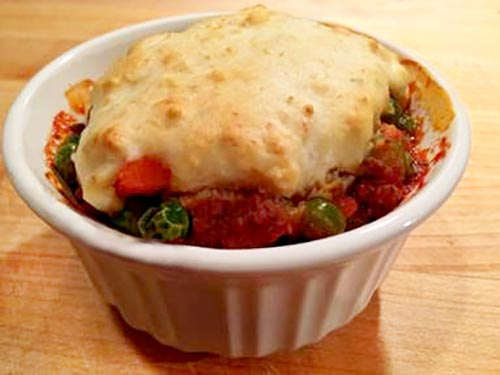 Autumn is here which means, for many of us in the US, the weather is starting to cool off and cravings for hearty and warm meals are sure to grow. This shepherd's pie recipe by Superior Farms is perfect for those in need of a delicious kitchen staple to carry them through the colder months. Don't be afraid of the substitution of biscuit as opposed to the traditional mashed potato. We find that the substitution is just perfect for sopping up the rich shepherd's pie mixture.
Recipe provided by The American Lamb Board:
1 lb of ground American lamb (preferably about 85 percent lean meat)
1 shallot, chopped
1 celery rib, finely chopped
1 (16- ounce) package of frozen carrots and peas, defrosted and drained
1 (15-ounce) can plain tomato sauce
½ tsp kosher salt
¼ tsp fresh ground pepper
¼ tsp dried thyme
¼ tsp dried parsley
1/3 tsp dried marjoram
1 cup biscuit baking mix (Bisquick, etc.)
2 tbsp finely grated sharp cheddar cheese
¼ tsp dried rosemary crushed
½ cup of whole milk
2 tbsp low sodium butter, melted
Superior Farms recommends preheating the oven to 425°F. Meanwhile, heat a large heavy bottomed skillet on medium heat and cook the lamb. Be sure to break it up into small pieces. After about two minutes, add the celery and onion, continuing to cook until the meat is browned, about 8 minutes. Take the opportunity to drain excess fat and moisture, then return the skillet to the stove.
Add vegetables, tomato sauce, herbs, salt, and pepper and be sure to cook until the mixture is completely heated through, about five to six minutes. Afterwards, spoon the mixture into six 8-ounce ramekins and set them aside. In a small bowl, combine biscuit mix, cheese, and rosemary. Incorporate the milk and butter, slowly stirring until just combined. You are now ready to spread the dough over each of the ramekins individually. Place the ramekins on a baking sheet and bake for 10 to 12 minutes, until the tops of the biscuits are golden brown. Remove the ramekins from the oven and set them aside for 5 minutes. You will now have scrumptious individual shepherd's pies. Perfect for the autumn!