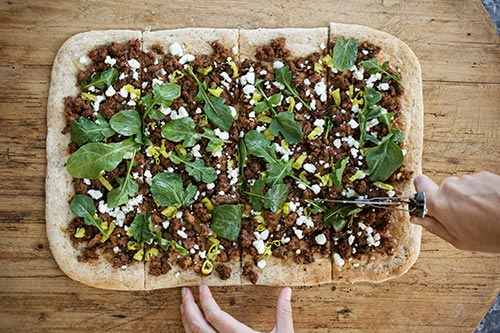 Since 1964, Superior Farms has been providing quality lamb to American families. Superior Farms is dedicated to maintaining a sustainable business, while simultaneously celebrating lamb's distinction as a versatile and flavorful meat.
While its delicious flavor makes cheese a dinner party staple, many hosts miss the wonderful variety that can be found beyond cheeses made from cow's milk. Superior Farms find that the luxurious, tangy taste of goat cheese is the perfect change of pace for a dinner party when paired with arugula and, of course, the exciting flavor profile of ground lamb.
Surely anyone could make a passable appetizer, but Superior Farms promises much more than that. Superior Farms promises that our Goat Cheese & Arugula Lamb Pizza will impress at your next dinner party!
Recipe is provided by The American Lamb Board:
1 package of premade whole-grain pizza dough, thawed
2 tbsp extra-virgin olive oil
1 lb ground American lamb
1 medium shallot, chopped
2 garlic cloves
1 tbsp tomato paste
1 tbsp dried oregano
¼ tsp kosher salt
¼ tsp pepper
¼ cup sliced pepperoncini peppers
¾ cup crumbled goat cheese
2 cups arugula (about 2 ounces)
After prepping the ingredients, Superior Farms suggests preheating the oven to 450 degrees Fahrenheit. Be sure to brush a rimmed baking sheet with about a teaspoon of olive oil. Then, simply use your hands to spread the pizza dough over the length of the baking sheet. Push the dough from edge to edge or roll the dough out on a floured surface and transfer it to the baking sheet). Bake the dough for five minutes, afterwards being sure to remove from the oven and set aside.
Superior Farms recommends heating a large, nonstick skillet over medium-high heat and adding a tablespoon of olive oil to the skillet. Add lamb, garlic, shallots, tomato paste, oregano, salt, and pepper and be sure to cook until the lamb is completely brown (about 5 minutes). Remove the skillet from the heat.
Brush the baked pizza crust with a teaspoon of oil. Evenly distribute cooked lamb and pepperoncini over the crust and top the pizza with the crumbled goat cheese. Bake the pizza for about 15 minutes, when the cheese will look slightly melted and the edges appear golden brown. Toss the arugula with a teaspoon of olive oil. Set it aside momentarily.
Remove the pizza from the oven and top it with the arugula. Afterwards, you are now ready to enjoy a classy and delicious appetizer that is sure to impress your friends and family!